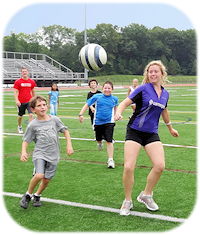 Still

Have Questions?



Please call:




973-845-9260



We LOVE to talk about camp.
And we LOVE to answer your questions!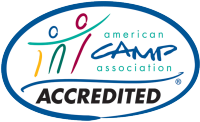 Prospective
Campers
& Parents
Current
Campers
& Parents
Meet
the
Directors

CK-NJ Blog

Meet The Directors
or click here to meet the rest of the Leadership Team!

Tom Riddleberger- Owner/Director

The first time he went to camp Tom knew his life had changed. That summer was exciting, even dealing with homesickness, as he learned so many new things, had so much fun and gained so much independence. His many summers at Boy Scout camp increased his understanding that camp is a wonderful and powerful influence in a child's life. In college he became a counselor at a wilderness camp for inner-city youth, a life-changing experience for him as well as his campers, eventually becoming camp director and working year-round for that organization. He next served as executive director of the American Camping Association's NYC office where he worked with camp professionals from across the country in such areas as professional education and accreditation. And then the idea for Campus Kids was born and he became an independent camp owner and director. That first summer was 1991 and still today Tom's passion and joy for camp knows no bounds.

Tom is proud of the CK-NJ staff and takes great joy watching the "miracle of camp" unfold each summer. The best day of the year is when the campers arrive. As a volunteer, he maintains an active leadership position in the ACA, currently serving as an accreditation instructor and visitor and as the co-chair of the NY-NJ Standards Committee. At ACA's 2015 national conference Tom received the National Honor Award "in recognition of outstanding leadership and noteworthy service to organized camping."
Tom's two adult sons, one an actor and the other a musician, discovered their passions at camp. There were caring camp counselors who encouraged and taught them and helped them believe in themselves, reinforcing Tom's belief that camp is part of our lives forever.

Stu Lisbe- Associate Director

From college professor to retiree, Stu has entered the glory days of retirement in the off-season from camp, taking full advantage to travel and document each step of the way with his trusted camera. Stu continues to work at Campus Kids because he believes in our philosophy."It may sound very idealistic, but it works." He loves being around the staff members and campers, always saying they're way more fun than people his own age! He believes some of the most important skills we need in life, like learning to get along with others and accepting people for who they are, are taught best at camp. One of Stu's favorite aspects of camp is simply being able to watch the transformation in the campers over the years. "I love watching our campers grow and develop right before our eyes. It's very satisfying." Stu believes the friendships created at camp are stronger than those developed anywhere else. In his spare time Stu enjoys reading, photography, and traveling. He also loves to watch movies and, unfortunately, the New York Jets.

Katie McNally- Assistant Director



If you asked Katie a couple years ago what she would be doing now, her answer most likely would of been teaching at a school in Upstate New York. She studied at SUNY Plattsburgh, graduating in 2013 with a master's in early childhood and special education. As a child, Katie never went to camp and was actually introduced to Campus Kids by her college softball coach who thought it would be a great summer job for her. Little did she know that it would turn into her full time job! After her first summer working at Campus Kids in 2010 she was hooked, and went back to New York feeling like she'd discovered the next best thing since sliced bread. "My family and friends would ask how my summer went and I would just light up when I talked about camp. They knew I tapped into something I was truly passionate about." Katie believes camp is important because it's the perfect environment for kids to figure out who they are, with supportive role models steering them in a positive direction. One of the coolest aspects about Campus Kids to her is the feeling of a community that instantly builds from the minute the counselors arrive. "Our entire camp philosophy is designed around people feeling accepted and creating a supportive environment together. I think that's one of the reasons why its so successful, because we're one big team of campers and staff members all wanting one common goal; an incredible summer." Over the years, Katie has worked as a counselor, athletics coordinator, and assistant director at Campus Kids. Outside of camp Katie enjoys traveling, going to concerts, playing the guitar, and hanging out with her two cute nephews and her new niece!
Jeremy Berse- Assistant Director



After an incredible summer spent working as a counselor in 1993, Jeremy kindly thanked Tom for an awesome opportunity. He had an amazing time teaching arts & crafts, inline skating, playing Dungeons & Dragons with the campers and working with a great bunk group of younger boys. However, Jeremy felt it was time to move on and told Tom he would try something new the following summer instead of returning to camp. Twenty something summers later, Jeremy is still at camp and working as one of the assistant directors. "Camp has that effect on people…" Jeremy says, seeing it not only in himself but in the number of campers and staff who say they just haven't found another place like it. Jeremy loves working for camp because to him, "Camp still feels new and exciting every summer and I continue to learn from the camp community. I get to work with the most awesome group of campers and staff." We're all surprised that Jeremy still has energy at the end of the summer, because he is constantly moving, working, thinking, and brainstorming to keep each summer at camp unforgettable.





Over the years, Jeremy has worked as a counselor, Head Counselor, Weekend Adventure Leader and Special Events coordinator at Campus Kids. Before working full time at camp in the year-round office, Jeremy tried a lot of different jobs. He worked as a teacher's assistant at a special needs school, a snowboard instructor, and a real estate agent just to name a few. Jeremy and his wife Vanessa (a former CK counselor and office worker) were married in 2005, and actually almost had their wedding at camp! When they aren't busy with camp and Vanessa's "real job", they love to go snowboarding and camping. They are avid fans of science fiction, video games, all kinds of music, NPR and WFMU. Jeremy loves to spend time at home cooking and playing with his three cats.

click here to meet the rest of the Leadership Team!

Campus Kids-NJ
weekday sleep-away
camp located on the
campus of Blair Academy
in Blairstown, NJ.

Join us in 2016
for our 26th summer!


Call 973-845-9260
or

email

for questions or your tour appointment.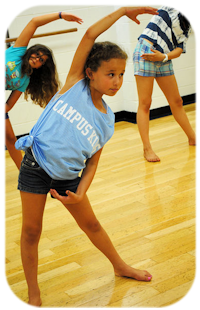 Related Information


Enrollment Form
Campers can
call home!
Look at pictures
from last summer!
View or Print
the Campus Kids Brochure
Watch the Video