Contact Us
Take a Tour of Campus Kids!
During the fall, winter and spring
we give tours on Saturdays and Sundays.

During the summer, while camp is in session, we give tours on weekdays when you can see camp in action.
Each tour is just for your family and is arranged by appointment. You can bring any family members or friends with you to the tour. We will show your family around camp, describe our program and facilities and answer all of your questions. Your tour guide will be one of the directors.
Campus Kids
New Jersey
Call 973-845-9260
or
email
for appointment
Tours are offered by appointment. We are currently scheduling private tours for:


Saturday,
February 25

Sunday,
February 26

Saturday,
March 4

Sunday,
March 5

Saturday,
March 11

Sunday,
March 12

Saturday,
March 18

Sunday,
March 19

Saturday,
March 25

Sunday,
March 26


Please call or write for future tour dates. Weekend tours of CK-NJ are given fall, winter and spring. Weekday tours are given during the summer when camp is in session.
In addition, you can take the

online tour of Campus Kids-New Jersey.
If we don't answer the phone, please leave a message and we will return your call to confirm an appointment. We can send you driving directions in an e-mail.
*
"Why do you sometimes give tours on religious holidays?"
We are a non-sectarian camp that includes campers from different faith communities. Our staff, likewise, is diverse. Some of us are able to conduct camp tours while others are observing religious holidays.
Summer Camps NJ, NY & CT
Campus Kids Summer Camps · PO Box 8, Madison, NJ 07940 · 973-845-9260
info@campuskids.com
Summer Camp New Jersey · Summer Camp New York
Resident Camp NJ · Resident Camp NY
This website is designed and maintained by the camp directors.

Camp Tours Are Available Year-Round by Appointment


Campus Kids-NJ
Call 973-845-9260
or
email
for your weekend appointment.
NOTE: These are not
"open houses"; you must make an appointment. We will confirm your appointment and send you directions via e-mail.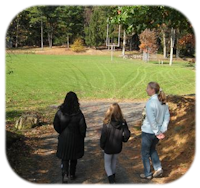 Related Information

Come See Us
At a Camp Fair!