Each bunk group sits together at its own table for every meal. Meal times are a great chance for the campers to catch up with their bunk mates, have a laugh and sing camp songs.
Lots of Food Choices!
Campus Kids offers an exceptional variety of healthy, freshly-prepared foods. Meals are kid-friendly and delicious. Our main entrees always include meat and vegetarian options. Meals are served buffet style and campers can always go up for seconds.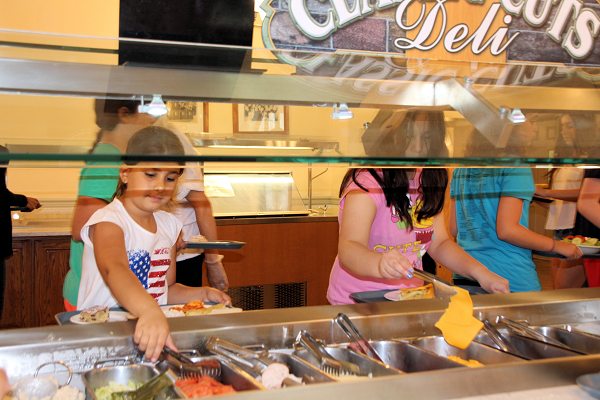 In addition to our standard entrees at breakfast (eggs, pancakes, breakfast meat, potatoes, etc.), we also provide fresh fruit, yogurt, cereal, oatmeal and a variety of juices. At lunch and dinner, we provide a fully stocked salad bar, pasta bar, and sandwich bar in addition to the main entrees. Even our pickiest eaters always find something that they like! You can view our sample menu right here.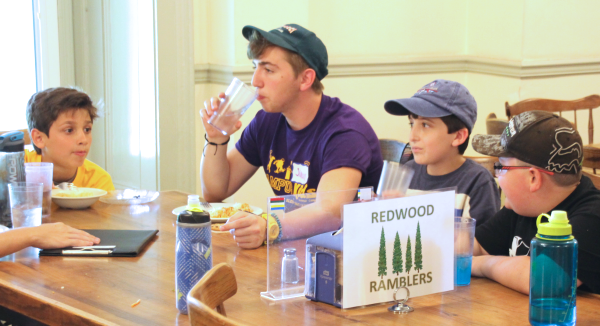 We can accomodate almost any food allergy or special diet at Campus Kids. All foods are prepared without nuts. Sunflower and soy butter is offered instead of peanut butter. In additon to vegetarian options, we also offer gluten-free options every meal. Individual food needs, including allergy management, are supervised by our Camper Support Coordinator (a member of our camp's leadership team) along with the camp nurses and dining room staff.