Sleep-away camp is very exciting for our younger campers (7, 8, 9 years old); they do very well and have a great time.  But how do you know if YOUR young child is ready to come to resident camp?
One of the most important indicators is what your child says. Children who initiate conversations about sleep-away camp and ask questions are often ready for the experience. Children who only talk about it in response to questions from their parents and show no interest or excitement may be nervous about the experience and perhaps are not yet ready.
Many younger children, though, can't even imagine what camp might be like so they don't know what to ask or what to think about it. That's why Campus Kids offers private family tours instead of large group tours of camp. Your family can come to camp on a Saturday or Sunday for a private tour with one of our directors. It's a friendly, low-key time to walk around the site while we describe everything that happens at camp,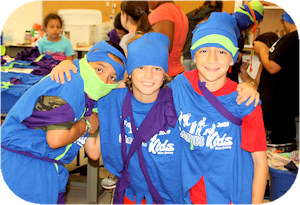 show you the facilities and answer your questions. We never pressure a child to tell us if they want to come to camp or not. You and your child get the answers to all of your questions and then go home to talk about your decision. You probably will have a much better sense after the tour about how your young child feels about sleep-away camp. And we can give you feedback based on our experience. We want you to do what is best for your child. If this turns out not be the year for sleep-away camp, that's fine. Most important is that child and parents both feel comfortable with their decision.
Campus Kids, as the "weekday sleep-away camps", can be the perfect way for younger children to get started at sleep-away camp. Being at camp on the weekdays and home on the weekends is often just right for the first experience living away from home. Counselors for our younger groups are selected for their sensitivity to the younger child's needs and they provide the attention and nurturing that helps these children adjust to their new independence and have lots of fun.
Camp is exciting for everyone, but it has a special excitement for the younger campers because so much is new and there is adventure in everything. Because our campers choose their own activities, these younger campers usually try out lots of different activities. And we let campers call home once a day, which means they can speak with their parents for a few minutes to tell them about their day at camp.
What ages are the younger campers at Campus Kids? In recent summers our youngest groups have been been combined 8- and 9-year olds (entering 3rd & 4th grades). There are separate groups for 10-year-olds. Occasionally a 7-year-old who is ready for camp joins our youngest group.
The younger campers do very well. The key is having lots of communication between camp and family ahead of time to help you decide if this is the year for your child to start sleep-away camp.
HAVE QUESTIONS?
Want to talk about camp or schedule a private tour?
Please call.
Campus Kids: 973-845-9260