IS MY CHILD TOO OLD TO START SLEEP-AWAY CAMP?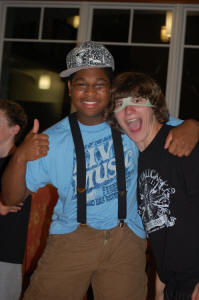 Every summer we have lots of 12, 13, 14 and even 15-year-olds at our sleep-away camps who haven't been away from home before, so the answer to this question is definitely, "No!" These are our most popular age groups and they always fill up first!
Sometimes a parent thinks that their older son or daughter is the only one who hasn't lived away from home yet, but that's definitely not true. Every child is ready at a different age for living away from home for the first time. And first-timers -- of all ages -- are a Campus Kids specialty.
Our most popular age groups are for campers entering 7th grade right on up through 10th grade. These groups are a mixture of returning campers and first-timers.
Why do older campers like Campus Kids so much? Among the many reasons:
SETTING -- Our teenagers love the campus setting at CK-NJ. It's cool to be on a such an amazing campus with unbelievable facilities. The dorms, the indoor pools, the sports and arts facilities are all terrific. Our CK-Minisink teens love the adventure of the cabin camp setting and such special activities as ropes courses, climbing wall, aqua zip-line and mountain biking.
ACTIVITY CHOICE -- Every camper chooses his/her activities every day at Campus Kids. Teenagers are especially able to take advantage of this unique feature of Campus Kids as they explore new interests and/or concentrate in specialty areas.
SOCIAL ATMOSPHERE -- Campus Kids campers are very accepting of each other and we find relatively few problems with social cliques. Since campers choose their own activities we have many different "types" of kids and the prevailing atmosphere is acceptance of individual differences. The artists are as much at home as the athletes. You can be yourself at Campus Kids.
KEEPING IN TOUCH WITH HOME -- Going home each weekend allows campers to keep in touch with friends and family. You can have a great time at sleep-away camp and also see friends and do some activities at home during the summer. It's the best of both worlds.
The only problem for teens at Campus Kids is that you have to be sure to sign up for camp right away! Spots are limited so call us to see what is still open for your age.

HAVE QUESTIONS? WANT TO TALK ABOUT CAMP?
Don't hesitate to call us toll-free.
Campus Kids-NJ: 800-633-7350
Campus Kids-Minisink (NY): 888-621-2267